Spring 2021 Makerspace News
The William & Mary Path Forward has been posted online with relevant dates for student registration, arrival, remote & in-person class schedules and more.

The William & Mary Path Forward
Fall 2020 Makerspace News
During the Fall 2020 semester we will have a service desk setup in front of the Swem Library makerspace. This service desk will be setup Monday through Sunday to make an appointment, get help with a project, or just ask a question. During the pandemic, all makerspaces on campus are currently available by appointment only.

Additionally, we now have Zoom remote 1-on-1 trainings available anytime the service desk is open.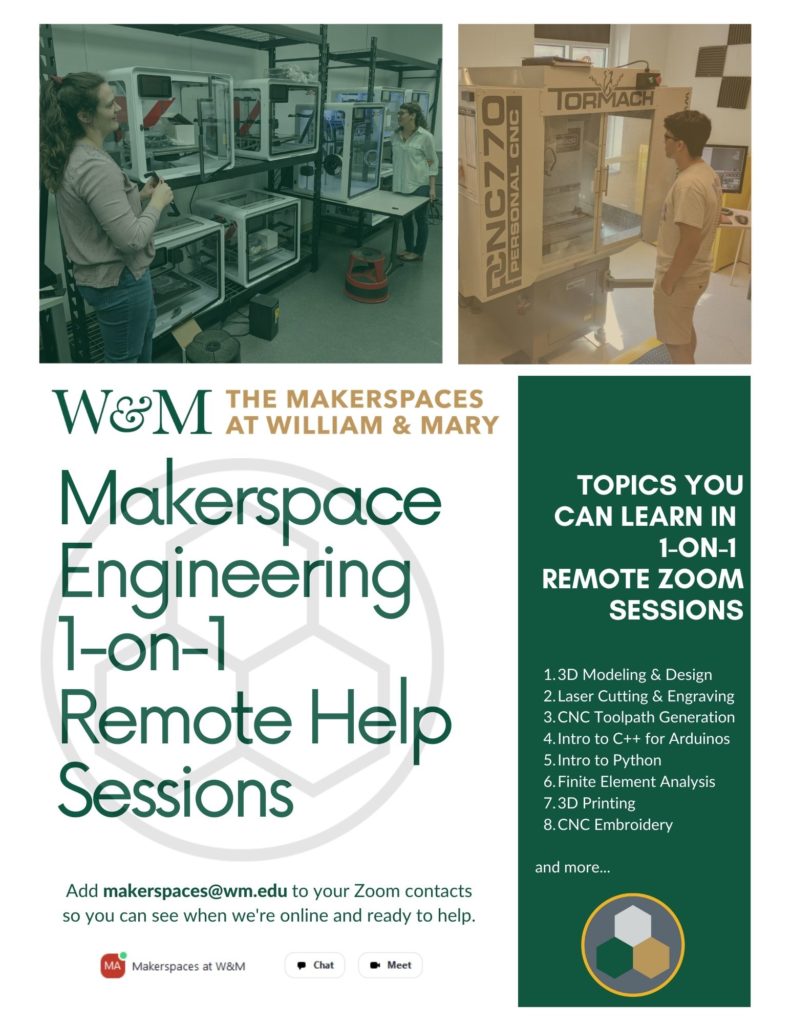 About the Makerspaces
What is a Makerspace?
A makerspace is a community within which people with diverse interests come together to collaborate and work towards productive goals. Makerspaces can be viewed as community prototyping, fabrication and engineering centers incorporating elements of machine shops, research labs, workshops and art studios where makers can come together to share resources and knowledge to build and prototype their ideas. A makerspace is where people with vastly different experiences collide on common interests, resulting in an output of innovative thinking, doing, and making.
Our Mission
The mission of the Makerspaces at William & Mary is to promote interdisciplinary collaboration alongside tools and resources of the modern age in an effort to amplify the community's productive, innovative and entrepreneurial efforts & spirit.
Who?
Everyone. Everyone in the William & Mary community is welcome at all of the makerspaces on campus regardless of skill level or training. If you haven't yet learned how to use tools of the modern day such as laser cutters, CNC mills or 3D printers; take a look at our calendar to discover the right training opportunity or group for you.